A bunion is the flaring of the first metatarsal bone of the inner foot and the squeezing of the hallux (big toe) inward.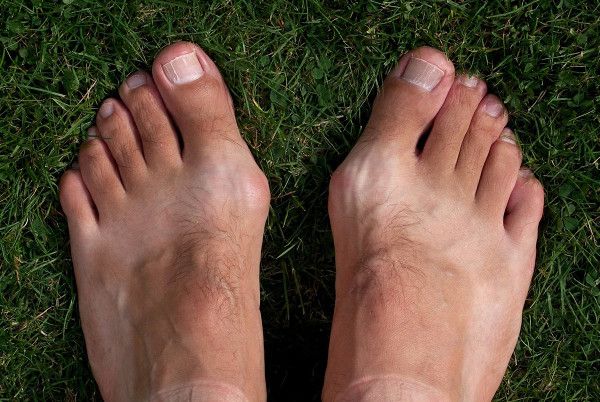 Here are some exercises to correct any bunion deformities. The first one is the
adductor hallicus stretch
. You place your hand on you hallux (big toe) and pull them out. This will loosen up your adductor hallicus tendon that pulls your hallux inward.
The second exercise is the
flexor hallicus brevis stretch
. This time you use your hand to curl your toe down loosing up this tendon that pulls your first metatarsal bone outward.
Some shoes could cause bunions. Choose shoes to that have a large enough toe box that does not pinch your toes inward. Stay away from pointed toed shoes (like Converse or Vans) and opt for round or square toed shoes that are big enough to fit your entire feet without pinching.
You could decide if a shoe is big enough by taking out the insole from the shoe. Place your foot on the insole and see if the insole is big enough. If no insole exists you could place your foot on the outsole.
Dr. William Rossi (the Weston Price of podiatry) found that isolated people without shoes have perfectly-formed feet with straight toes and retain a gap between the hallux (big toe) and the other four digits just like infants.
It's also vital to choose shoe outsoles that are not bent inward like this:
This shoe outsole is bent inward and the toe-box is too narrow and therefore are NOT recommended: