facial reconstruction of how a viking women really looked like
man
http://www.history.com/news/what-did-th ... -look-like
yet many people think they looked like this
vikings wearing horned helemts is also a noble myth

European Bronze Age and Iron Age horned helmets are known from a number of depictions,

but few actual finds

. Headpieces mounted with animal horns or replicas of them also occur, as in the Mesolithic "frontlets" from Starr Carr.

These were probably used for religious ceremonial or ritual purposes.
[b]there is no evidence that horned helmets were ever worn in battle at any point during the Viking Age[/b]
http://en.wikipedia.org/wiki/Horned_helmet
It wasn't until the end of the 19th century that people started drawing Vikings wearing horned helmets because the villains in a popular Wagner opera wore such helmets.

http://io9.com/5930061/what-did-vikings ... -look-like
lets not forget aout the myth of vikings being 6'5 monster hulks
Archaeological finds show that Viking men stood about

5'7" (170cm) tall
.
They also had such
feminine skulls - and female Viking skulls have such masculine features
- that even now it can be difficult to tell the gender of a Viking skeleton.
reality if take away their fictional horn hats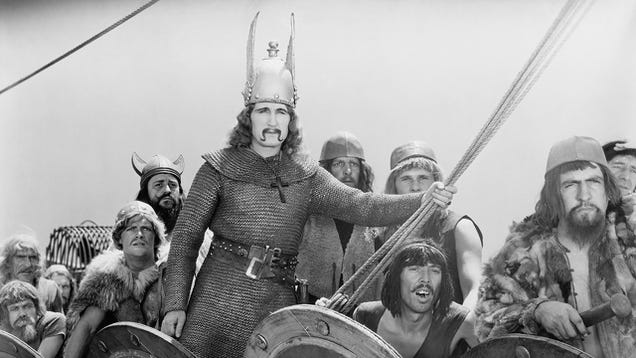 also very few of them were blond. most were redheads and brunettes(95%+)
100% complete fiction