AMWF CMNF wrote:

mrz wrote:don't worry I'm done looking at underage porn, I'm just going to be a class 4 sadist pedo instead . . . and it is not illegal to masturbate to it.

Hello Mrz:

The above photo of the beheaded toddler girl is from a video clip which I saw maybe a few years ago which showed a man holding this toddler upright whilst its still soft body flopped about. He was distraught and must have been the father. In a cruel twist of irony, images and videos like these are not illegal in many countries even though they do far more harm to viewers than any form of simple nudity of naked underage children (e.g. age 6 to 17). The reason is that we feel much less threatened by violence than by sexuality. This is because we have more self-control over our violent urges than of our sexual desires which we feel are like dangerous powderkegs ready to explode upon us. We thus feel a pathological desire to control and regulate anything remotely to do with sexuality. In the 23rd Century, they will believe that we were all mental retards. Unbelievable were it not the truth.
Yes it is obvious that underage porn is illegal because of Christian Puritanism, coupled with the profits of the prison industrial complex. As I alluded to in this thread
viewtopic.php?f=2&t=1014890
The prison industrial complex zombies are actually highly Christian, as you can see by their monuments to the ten commandments in front of their court buildings;
And by their religious police giving their allegiance to the Christian God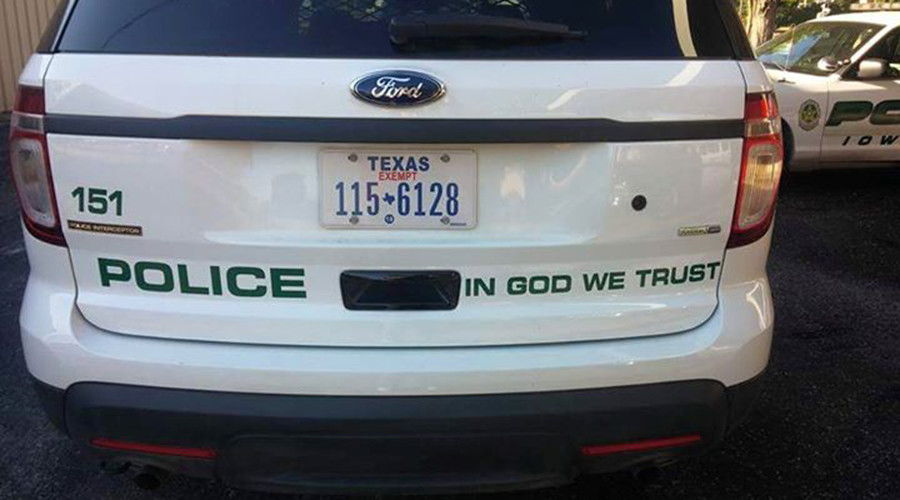 The Christian taboo against sex is how they manage to create a mythos around underage porn, attribute it magical properties such as the ability to function as a voodoo doll, fabricate a mythological billion dollar industry around it that doesn't exist, attribute to it the scientifically disproved property of increasing child sex abuse rates, and claim that it is for whatever reason immoral to look at it, despite the fact that they don't care about videos of children being decapitated, nor skinned alive for that matter, even though they justify their criminalization of underage sex images by the logic that "a child had to be abused to produce that!", even though in a good deal of underage porn there is not even abuse, but they simultaneously don't care about non-sexual media where a child is tortured to death even so long as they are clothed.
Had the parasites attempted to criminalize violent gore of children who are not naked they would have failed because this is obviously protected by the first amendment (the same as underage porn though), but because of the Christian taboo against sex and the high prevalence of Christianity in the USA, they had no issues to criminalize underage nudity, though of course their logic could not be "We need to criminalize underage porn because it will make us billions of dollars and Christians will support this because they are anti-sex puritian bigots", so instead they made up a bunch of bullshit, which today we know to be false though so it no longer even works in furtherance of the criminalization of it anymore, unfortunately though their goal was never to do anything they said their goal was, so just because every single argument they gave to justify what they did has been invalidated and contradicted it doesn't mean they will undo their treasonous unconstitutional criminal ruling.
Also even abusive underage porn is typically not more fucked up than that image, the worst of it is about equivalent in terms of the response it invokes in me anyway, it is not any different from any other sort of gore other than it is sexual.