Attractive females have deep set eyes despite the absence of a brow ridge. What they seem to have instead is a forward set frontal bone. The frontal bone doesn't grow itself but instead expands at the coronal suture to accommodate brain growth.
Premature fusion of the coronal suture results in a recessed superorbital rim and exposed eyes.
Left sided coronal suture fusion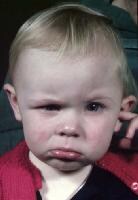 side view
Macrocephaly
Projected frontal bone
Recessed
Deep set eyes could be construed as being masculine and therefore not attractive but males have more protrusive eyes than females along with their brow ridges and longer skulls.
Barbara palvin has a tiny skull, but still has a forward set frontal bone that casts a shadow over her upper lids.