we all know makeup boosts the attractiveness of females, but i really believe the actual improvement and the consequences of it are vastly underrated....even here at sluthate. i do believe makeup is the actual root of female hypergamy, the root of female sluttiness and female pickyness...and therefore OUR INCELNESS.
lets take a look at this picture. this is samantha schacher, a semi-famous tv-presenter before and after makeup: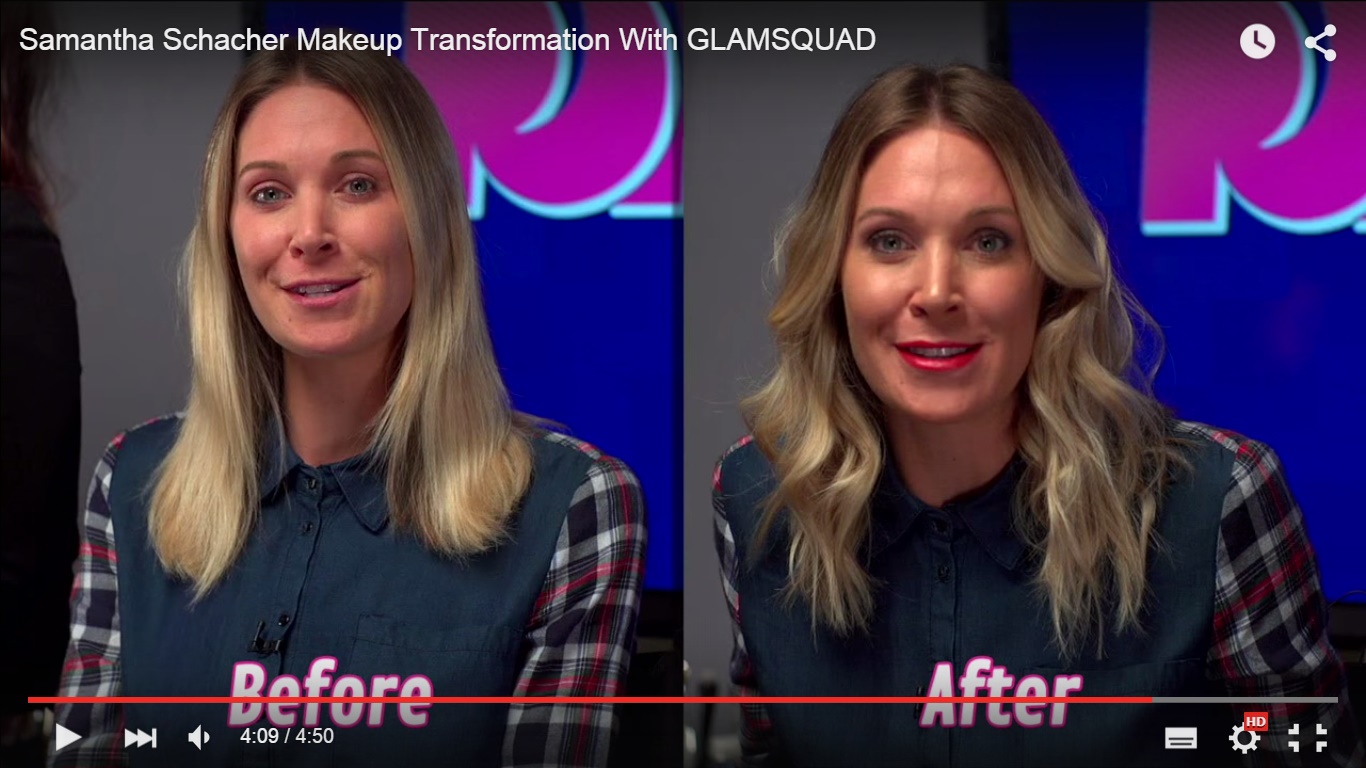 lets assume makeup never existed. no women has makeup at her disposal. they all have to work with what nature gave them...just like we men.
do you think you would have a chance with the left girl? do you think she would be interest in having sex with you? having a ltr with you? do you think she would only open her legs for 8/10 masculine male models? do you think chads would be greatly attracted to her? try to answer those question for yourself and rate your chances to sleep with that girl.
now lets take a look at the girl on the right and ask ourselves the same exact questions? do you still think you might would have had a chance with that girl? do you still think she might not _only_ go for male models?
fact is, this girl went from a naturally attractive but not particularly special "plain jaine" to high sex-appeal, high class, HQNP lady. she legit went from 6/10 market value to 8/10 market value in 15 fucking minutes
the quality of men the right girl can attract compared to the left girl, is immensely increased.
now what does that mean? it means that every female can attract men who are atleast 2 points above her natural looks simply by painting her face which leads to what we can already experience when going out of the house.
6/10, 7/10, 8/10+ women EVERYWHERE. there are basically no average or below average women left in this world because every female can cheat her way out of the genetic lottery.
now if every female is atleast a 6 or 7 with makeup and can therefore easily attract 7/10 or 8/10 men through tinder, where does that leave the sub7 men? those men are suddenly completelly taken out of the game because their looksmatched counterpart DOESNT EXIST ANYMORE.
this is the reason we are incel. yes we might not be male models, but in a time where makeup didnt exist, there would be PLENTY of attractive lookmatched females for us, because those girls just wouldnt have what it took to attract slayers without faking skin clarity, tan, bone protrusion etc...
modern, highly evolved and researched makeup products are the reason that whole generations of men are starved from pussy...something that was NEVER intended by nature