Bumble has already been covered here. It is an app that removes male choice, with only female users allowed to make advances:
http://www.bbc.co.uk/newsbeat/article/3 ... misogynist
Bumble dating app blocks and shames 'small-minded misogynist'
When one of its male users "lost his cool" with a female match, dating app Bumble stepped in to publicly tell him off and block him from the service.
Following a comment she made about a "slow" day in the office, the user, known only as Ashley, asked her match Connor about his job.
Over the course of a number of messages he then described her as a "gold-digger" and "entitled".
In an open letter to Connor, Bumble called him a "small-minded misogynist".
It appears Connor originally took exception to Ashley asking about his career.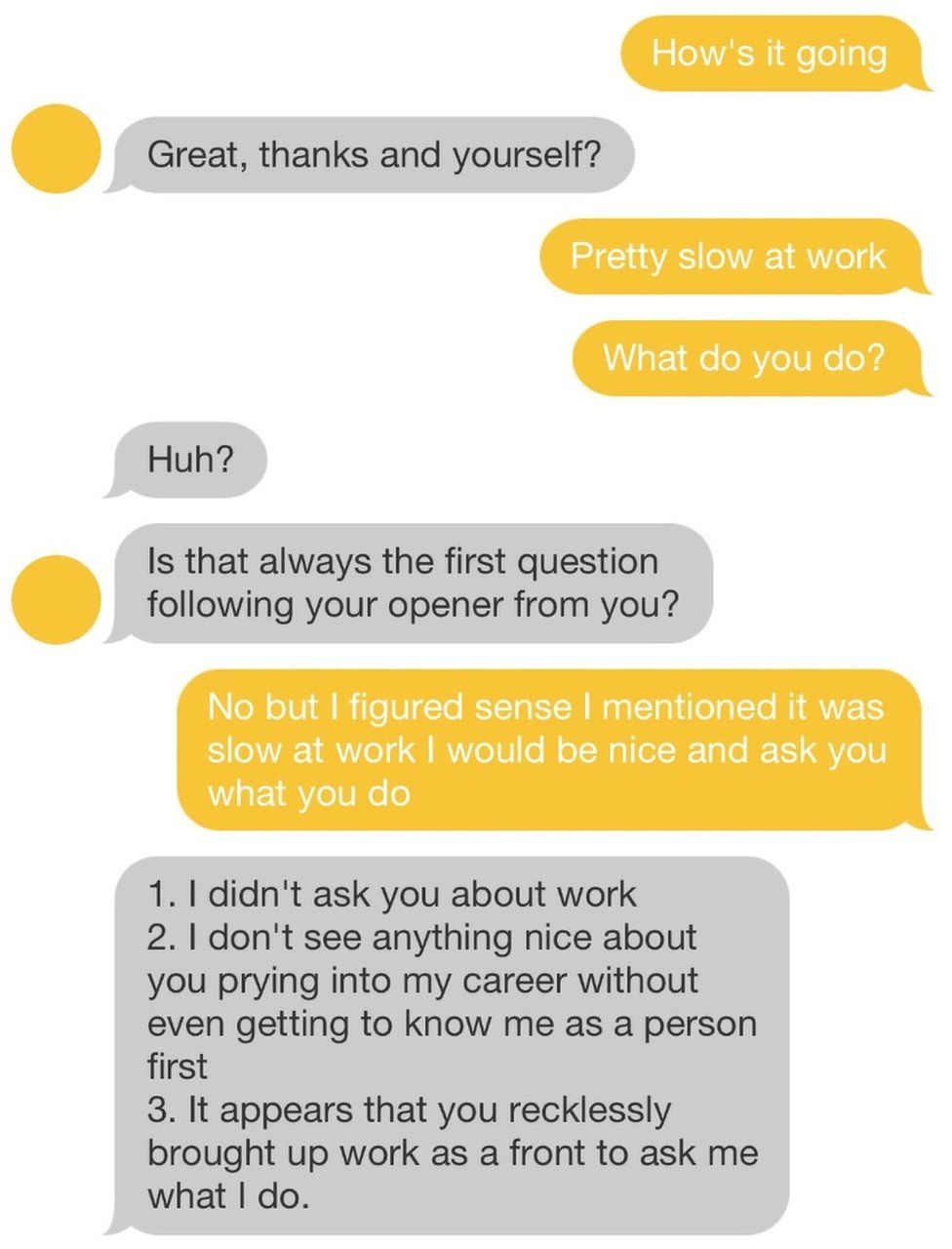 "I've gotten tired of girls like you who shamelessly attempt to pry into my career and really the kind of money/earning potential I have," he then messaged.
"I put my job in my profile. I now use it as a vetting process to determine the truly shameless and unintelligent ones on here."
He later added: "I don't fall victim... to this neo-liberal, Beyonce, feminist cancer which plagues society."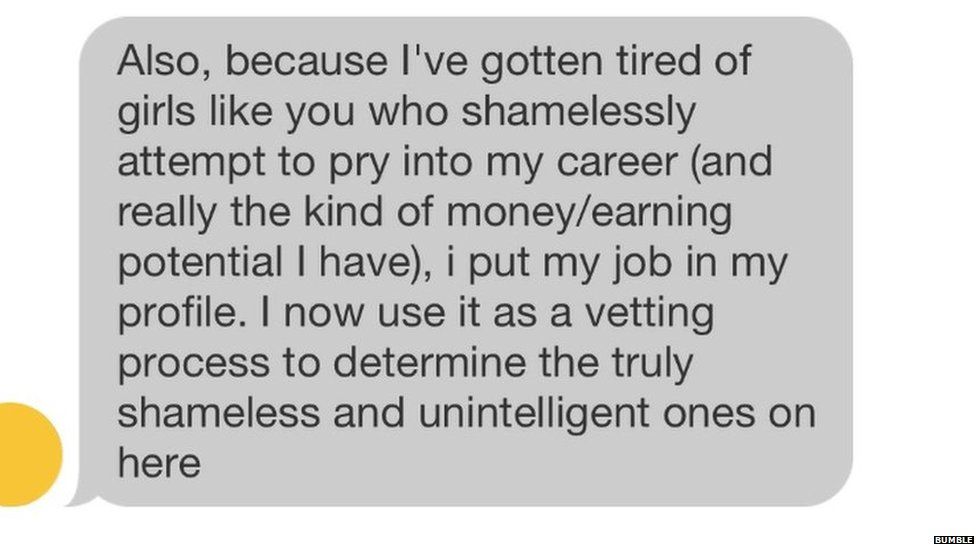 Bumble replied: "She [Ashley] wasn't hoping to figure out if your wallet was sizeable enough for her to move into your house and start cooking dinner for you after vacuuming your living room while you clock in a 9 to 5 work day.
"Instead, Ashley was (wait for it, Connor, because this is where things really get interesting), viewing herself as an equal."
Like many dating services, Bumble operates on smartphones, matching people based on their preferences and locations.
But it says its unique offering is that only women are able to start conversations with potential partners.
It was launched by Whitney Wolfe, a co-founder of Tinder, who sued that organisation for sexual harassment.
She later settled out of court.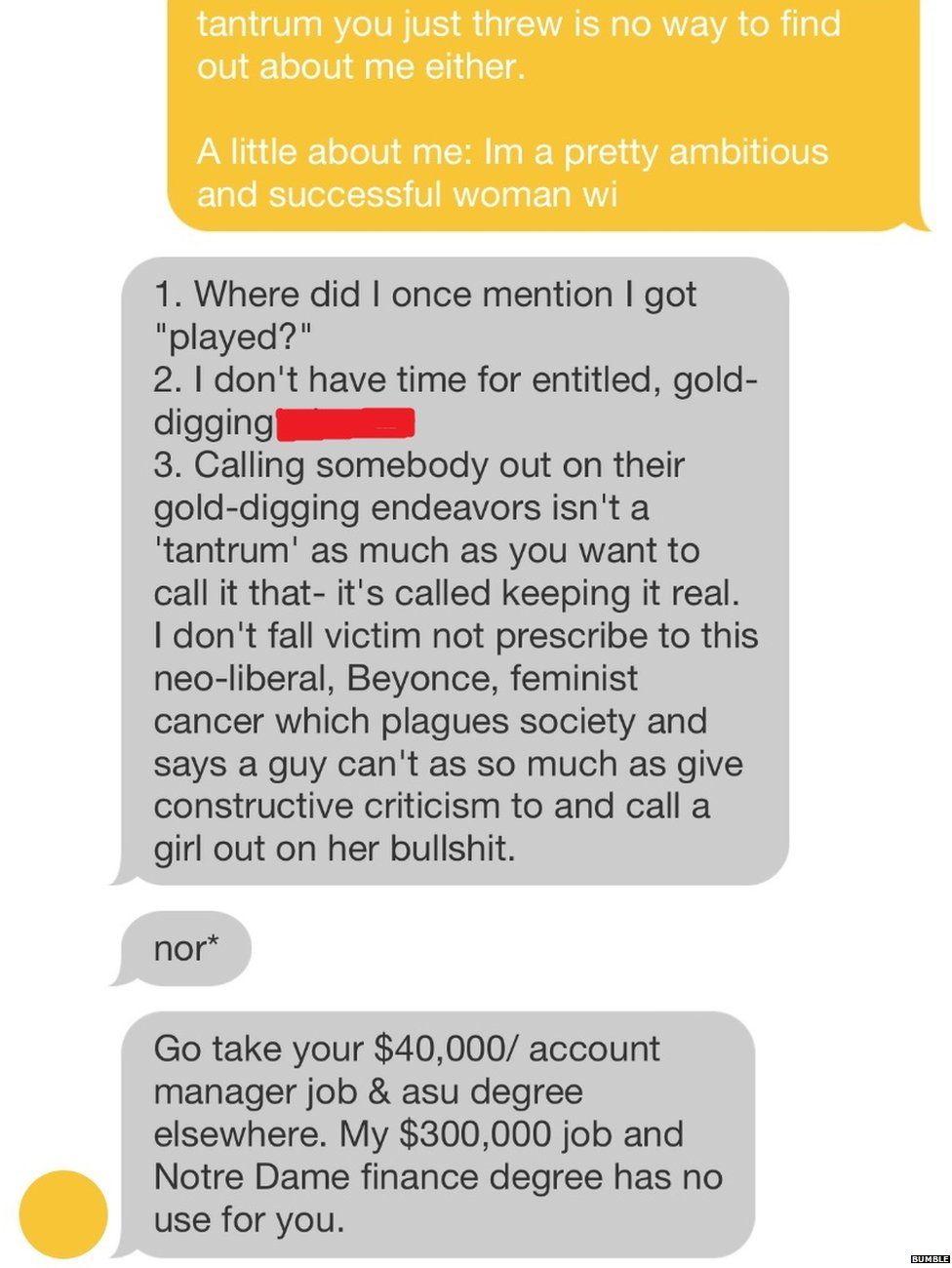 "We are going to hope that one day, you come around," Bumble said in their letter to Connor.
"We hope that the hate and resentment welling up inside of you will subside and you'll be able to engage in everyday conversations with women without being cowardice to their power.
"But until that day comes, Connor, consider yourself blocked from Bumble."
The firm also launched #ImWithAshley and #LaterConnor on social media.
A Pew Research Centre report in 2013 found that 28% of online daters have been harassed or made to feel uncomfortable.
For women, 42% have experienced negative contact, compared with just 17% of men.
Earlier this year it was revealed the number of reported crimes where dating apps are mentioned had increased more than sevenfold in the past two years.