Look at this photo:
In the flesh if I looked at this person I would be inclined to think they are "chinless", and in the flesh that is how tbey appear. Yet, as the X-ray clearly shows, unerneath all that flesh, that person actually has a chin.
Now, look at this photo:
If you saw thst person in real life, you might notice that they have a "jutting chin", and that underneath all that flesh they must have a distinctive chin bone. But as the X-ray clearly shows, this individual has a less prominent chin than the person in the previous photograph.
How is this explained?
First of all, whether or not a skull has a well defined "chin" is absolutely meaningless in terms of what it would have appeared liked on a living person. It should be noted that the chin itself is not a "projection". A chin on a mandible occurs when the dentition (teeth) have shifted rearward. This creates the illusion of a chin, not because the chin is projecting foreward, but because the teeth have retreated behind it. There is not now and never was such a thing as a "projecting chin".
On the living, the appearance of a chin has nothing to do with the way the chin is shaped, but by how the mandible and the maxilla relate to eachother in occlusion.
Look at this photo and memorize the following landmarks: pogonion, prosthion, infradentale gonian:
A chinless person will have a gonian that is tilted anteriorly and inferiorly, under the braincase. Their pogonians are always seated far behind their prosthion. Someone with a prominent chin will always have gonians that are deep and foreward projecting, and pogonian that is equal to or slightly beyond the prosthion. This is what causes the muscles attached below the infradentale to get streched, hence the appearance of a chin. This is an ancestral condition present on Neanderthals, Atapuerca, Erectus, and even some Gorillas and Chimpanzees. The condition in the first example is a modern condition that first appeared in modern times.
This Neanderthal had a more prominent chin than the second example cited above:
So, you're probably thinking fo yourself... If this guy's for real, some gorillas and chimpanzees should have chins, right??
Right???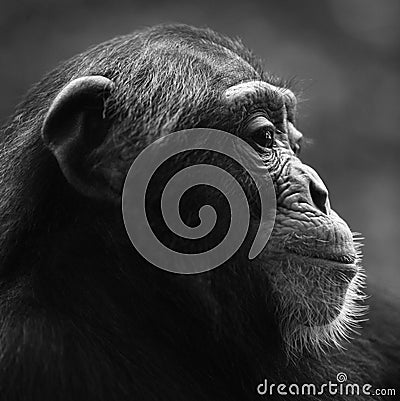 AAAAAAAAAAAAAAAAAAAAAAAAAAAAAHAHAHAHAHAHAHAHAHAAHAHHAHAHAAHAAHAHAAAAHAHAHAHAHAHAHAHAHAHAHAHAHAHAHA SOMEBODY'S WORLD HAS JUST BEEN SHOVED OFF OF ITS AXIS AND SMASHED TO FUCKING PIECES. Anytime the world-famous Neanderthals come up in a discussion some beta-monkey just HAS to refer to them as "chinless". Forget those big HUGE muscles, BROAD SHOULDERS, brains, and skills that make them better than you. They were chinless! But not anymore. They had more chin than most living people.

Please copy and paste this message to all the forums. Don't give me credit for it. Chinlessness is a recent degeneration and not everyone who appears to have a chin actually has one underneath that flesh.