Aw, diddums!
Meet half-woman, half Bo! Selecta character Tammy Saunders. Seems she got hit with a strain of Meningitis which poisoned her blood cells.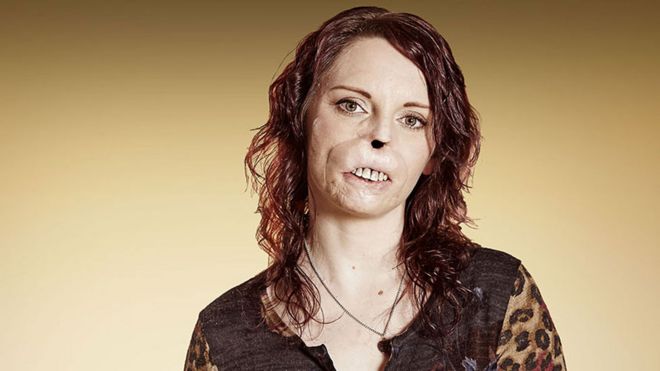 http://www.bbc.co.uk/news/disability-35231120
She was apparently "never confident" before her illness:
By my 20s I had built on [new found confidence] and, with the addition of some foundation, mascara and lipstick, I actually felt pretty. I had a boyfriend, a home, a career and for the first time in years I was fairly happy with my looks and life in general. However, at the age of 32 my looks and my life changed forever.
Sounds like the archetypal carousel-cum-beta provider settling lifestyle...
It took ten days for me to be diagnosed with meningococcal septicaemia, a strain of meningitis that causes blood poisoning... I lost the bottom half of my nose and almost all of my lips. The flesh on the bottom half of my legs and small areas of my arms, hands and feet had to be removed and the surviving skin on my limbs is criss-crossed with burn like scars. Tendons, muscles and nerves were also damaged so I have been left disfigured and with mobility and dexterity problems.
Ahhh... it's a shame.
So here I was again with a face and body that I was deeply unhappy with

. I was in hospital for four months but outside of the safety of the hospital, where it seemed OK to look such a wreck and everyone knew why I did,

I became very self-conscious.

Before my illness I had worked hard to become a very social and active person but when I got home from hospital

I would rarely leave my flat for anything other than hospital appointments.
Ring any bells, incels?
That's why I applied to be on Channel 4's The Undateables - a dating programme for people with challenging conditions.

I'd cheated death for goodness sake so I was pretty sure there was nothing I couldn't do.
No, surely fucking not...
I had been a bag of nerves beforehand but within minutes of meeting him I was able to forget my appearance.

He looked into my eyes,

not at my scars and liked me for my personality.

It finally proved that despite everything that has happened I am still an attractive person because of how I am inside.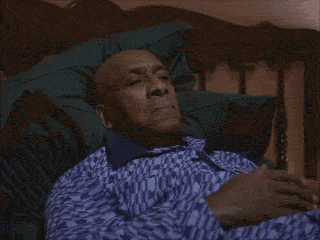 CLIFFS:
This thing: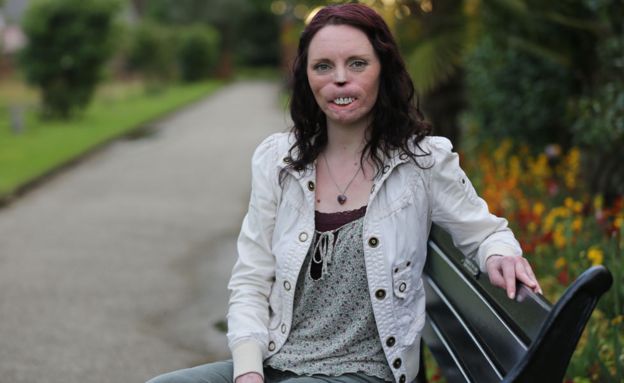 Is STILL more valuable on the sexual market than any of you reading this thread. End it incels, abandon hope all ye who enter this mortal coil as a sub-8 male.